Pull-Through Parking Instructions
*Pool Hours may change due to inclement weather and Lifeguard Availability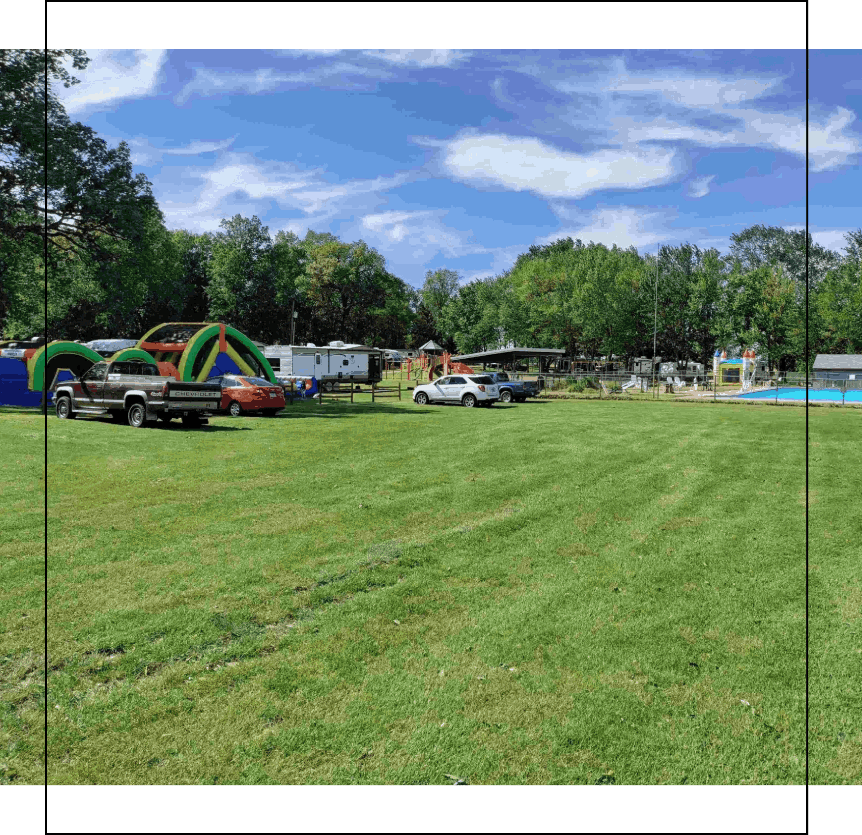 All Campers must register before entering the campground. A maximum of 6 overnight campers are allowed to be registered per site. RV/Tent Combo Sites allow up to 10 overnight campers to be registered.
Visitors visiting campsites or the campground must purchase a visitor day pass.
One vehicle per site. A parking pass must be displayed on the windshield at all times. Additional parking is available to all registered guests and visitors located on the map.
All vehicles, RVs, and golf carts must have a valid active insurance policy at all times while on the property. Vehicles uninsured must be removed from the property.
Subleasing of campsite, RV site, and cabin prohibited.
Electric Vehicle Charging is available @ $25 per day (30AMP & 50AMP @ designated EV parking sites).
Electric Vehicles are NOT allowed to be plugged into campsite electric pedestals.
The speed Limit is 5 MPH.
Damage to the camping sites, facilities, equipment, landscaping, or any park property will be assessed and charged to the registered camper.
Camping is an outdoor experience; therefore, we will not give refunds due to the weather.
Electric Golf Carts Allowed (Gas carts must not operate past 11 PM). Children are not allowed to operate golf carts or vehicles on the property.
Please do not walk or drive on campsites other than your own
Ensure your equipment does not block any roads or pathways
Parking for extra vehicles is available, and please do not park in empty sites as they may be reserved by a late arrival.
Place all trash in the dumpster located behind the main building. (See map) Leaving trash at your site, in bags by the road, or in the fire ring will incur a minimum $25 cleanup fee and may not be invited back to the park.
Do not take picnic tables or fire rings from other sites.
Please clean up after activities
All Visitors must stop at our office to register and obtain a visitor's car pass.
Registered campers must notify the office of visitors during check-in. Visitors that exceed the campsite occupancy or unannounced will need to purchase a visitor's pass per person.
Anyone on the property not registered will be asked to leave immediately and is trespassing.
Check-in between 2 PM and 10 PM
Campsite Check-out 12:00 PM
Cabin/Cottage Check-out 11:00 AM
Pets are limited to 2 per site or 4 small pets per site.
All pets must be on a leash at all times, and you must pick up after them. Pet feces found on your site will incur a cleanup fee.
Owners who demonstrate a lack of or no control over any domestic animal will be asked to remove the animal from the property.
Per Ohio Law, all pets must be registered at check-in, and vaccination documentation must be on hand.
Never leave your pets unattended in the park. Do not allow your pets to annoy/bother other guests. This includes excessive barking.
Pets are not allowed in the buildings, shower house, pond, pool area, or tied to park property (IE, fence, picnic table, tree, pole, etc…).
If your pets are disruptive, you will be asked to find other accommodations.
Quiet Hours are between 11 PM and 8 AM.
Rule of Thumb: Be mindful of your camping neighbors. If they can hear it, it's too loud.
All children 16 and under must remain on your site during quiet hours.
All children must be supervised at all times.
Anyone under the age of 14 must have an adult inside the pool fence with them at all times.
Babies/Children are permitted in the pool with special swim diapers.
Anyone under the age of 14 must have an adult inside the pool fence with them at all times.
*Babies/Not potty-trained children are not permitted in the pool without swim diapers.
No smoking inside the pool area or pool.
No glass containers are allowed inside the pool area or pool.
Swimmers must wear appropriate swimwear, no street clothes.
No Diving – Read posted pool rules
The pond is off-limits after dusk and before dawn.
All fishing is on a catch-and-release program.
Children under 10 must be accompanied by an adult around the pond.
Fire Rings should never be moved from their original location. Please contact us if you need to move a fire ring prior to moving it.
Only burn wood or charcoal. DO NOT burn trash (IE; Plastic, Glass, Aluminum – a $20 site Cleanup-Fee will be assessed)
Never leave a fire unattended.
Trees are the property of the park; cutting down trees is strictly prohibited. Firewood is available for purchase.
Gray & Black Water Dumping​​​​​​
Gray and black water MUST be dumped in the designated dump station. Dumping gray or black water is illegal, and you will be charged a sanitation cleanup fee of at least $200 and asked to leave.
Campground Boundaries \ Farmland Trespassing
Please be aware of the campground boundaries. Never enter the neighbors' property\farmland. Please be respectful of our neighbors' property, as damage to their crops by entering their property without formal permission will result in a fine of up to $500 per person and trespassing. Throwing trash, bottles etc… on the property will also result in a fine. Remember, this is their livelihood, feeding America.
No fireworks, firecrackers, poppers, or smoke bombs of any kind are permitted.
Smoking is not permitted in any of our buildings or restrooms.
Be aware of your surroundings prior to and when moving vehicles and trailers. Look out for objects, pets, and children. Do a walk around your vehicle before departing. We want everyone happy and safe!
Report all safety concerns or
issues to management immediately.
Inappropriate behavior, such as but not limited to fighting, vandalism, theft, vulgar language, illegal drug use, and weapons, will not be tolerated.
Management reserves the right to refuse service and to evict anyone without a refund. Behavior that is considered detrimental to the campground or fellow campers will not be tolerated.
USPS Mail: Personal mail is not permitted to be sent to our business address and will be returned to the sender. You may not use our business address as residency.
Tent camping is not permitted on RV Sites. Please book an RV\Tent Combo or RV\tent buddy site if you would like a tent adjacent to your RV site. RV\Tent Buddy Sites: 64\63
RV's exceeding the site's maximum length: The online booking system is programmed for each site's allowable maximum length. Reservations with equipment that exceed the site's maximum allowable length upon arrival will not receive a refund.
Site Lock Option: Reservations not "Locked" are subject to site number change to accommodate other guest(s) reservations. You may call at any time to add the site lock option to your reservation for a fee. Group reservations made online in separate transactions will need to e-mail us their group member's reservation information of who is part of their group to prevent separations if the lock option is not made online.
Late Check-out Fees: 12 PM-2 PM = $10 | 2 PM – 5 PM = $25 | 5 PM or later = Additional night @ daily rate will automatically be billed to your credit card on file.
Late Check-out is based on availability and is not guaranteed unless you book an additional night prior to making your reservation.
Payment Methods: All reservations must be made via credit card if the stay is less than 1 week.
Site folio balance: Sites with a folio balance for campground services (e.g., honey wagon), fees, store purchases, visitor passes, etc… must be settled the day prior to check-out if paying cash. Any site balance will be automatically charged to the credit card on file. You may check your balance anytime using the payment link provided within your reservation confirmation e-mail.
Discounts: All discounts are permitted on "Daily Reservations" only. Military discounts are permitted for Active military and Veterans. Validation of Military status\service is required. First responder discounts are permitted for active first responders. Validation of First Responder is required. Good Sam discounts are no longer accepted. Discounts must be applied during the reservation booking process.
No discounts for the 2024 Solar Eclipse Special Event.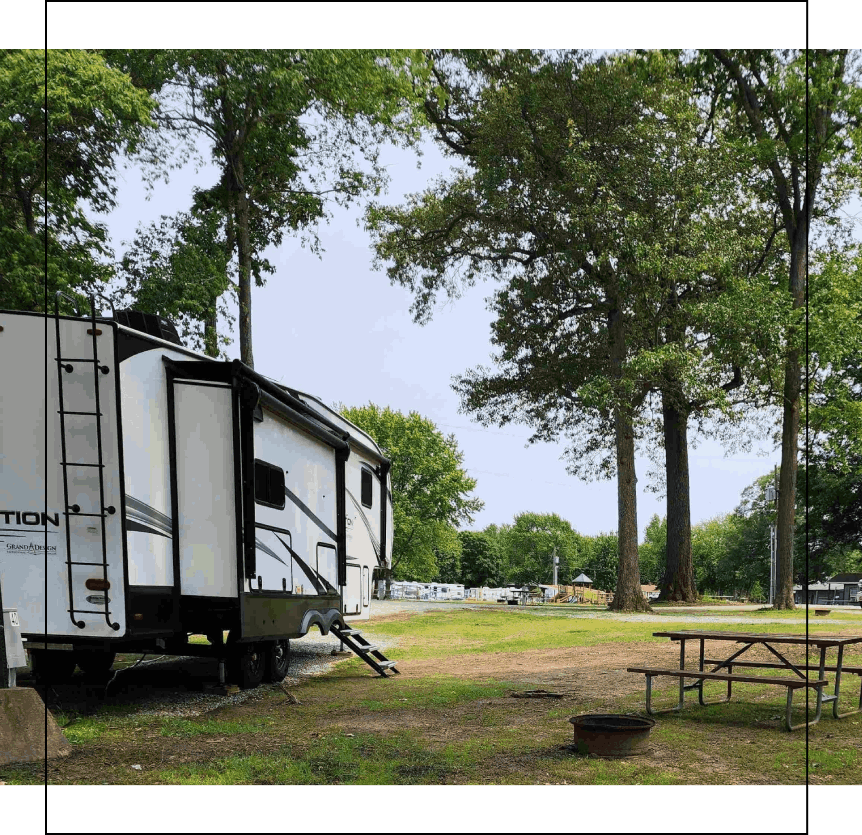 Full refund minus a $10 cancellation fee if the reservation is canceled at least 14 days in advance. There is no refund on deposit if cancellation is made within 14 days of reservation. Cancellations made within 7 days or less notice during a specified holiday & special event weekend (Memorial Day, July 4, Labor Day, Halloween Weekends) will forfeit 100% of the reservation. Seasonal and monthly reservation deposits to hold spots will not be returned for any reason whatsoever if you decide not to come.
Daily Reservation Cancellation Fee = 1st Night's Rate
Cancellations are not permitted on the day of check-in.
RV's exceeding the site's maximum length: The online booking system is programmed for each site's allowable maximum length. Reservations that exceed the site's maximum allowable length upon arrival will not receive a refund.
2024 Solar Eclipse Special Event Cancellation Policy: No refunds if cancellation is made within 30 days of reservation arrival date.